We're thrilled to announce the general availability of Turbot Pipes! Introducing a free Developer tier for individuals and a usage-based Team tier crafted for DevOps teams. Turbot Pipes is poised to revolutionize the way your team manages, secures, and collaborates on cloud services, acting as an invaluable ally for every DevOps team to empower them with data-driven insights essential for informed decision-making.
Journey of Turbot Pipes
Developers love our open-source Steampipe CLI. Pipes enhances Steampipe as a centralized service with additional security, scalability, & collaboration features making it easier to adopt as a team.
Since Pipes was quietly introduced through our docs, it has garnered adoption from over 1,500 users, ranging from hobbyists to Fortune 500 companies. It's used for diverse applications, including security assessments automation and as an integration point to power GitOps pipelines. Managed Service Providers and software firms have integrated Pipes into their systems, drawn by its Zero-ETL architecture to expand their breadth of service coverage.
We've secured our SOC2 Type II certification, introduced more integration points, expanded support for new Steampipe plugins, and enhanced data synchronization and reporting performance.
Cloud intelligence & security: crafted for DevOps
Turbot Pipes extends Steampipe's capabilities, introducing features pivotal for team collaboration, workflow integration, enhanced security, and scalability:
Effortless Zero-ETL: Serve as the central hub for all your cloud data, providing seamless integrations without the hassles of traditional ETL or database management overhead.
Robust Security & Operations: Manage credentials securely with role-based access controls, conduct comprehensive security assessments of your cloud environments, and pinpoint opportunities for operational optimizations.
Enhanced Collaboration: Facilitate sharing of data-driven insights, allowing team members to share connections, send report snapshots, and pipe query results amongst team members giving them the necessary context they need for informed decision-making.
Optimized Performance: With persisted data storage, experience accelerated queries and reporting that not only empower your team to work faster but also streamline your workflows efficiently.
Transparent pricing: tailored for DevOps
Turbot Pipes is free for Developers, allowing exploration and personal use at no cost. The Team tier, commencing at $49 per month, includes three users, 2,000 compute minutes, and 20GB of storage. Scale up as needed, adding more users and paying only for the additional compute and storage you require, with the flexibility to cancel anytime.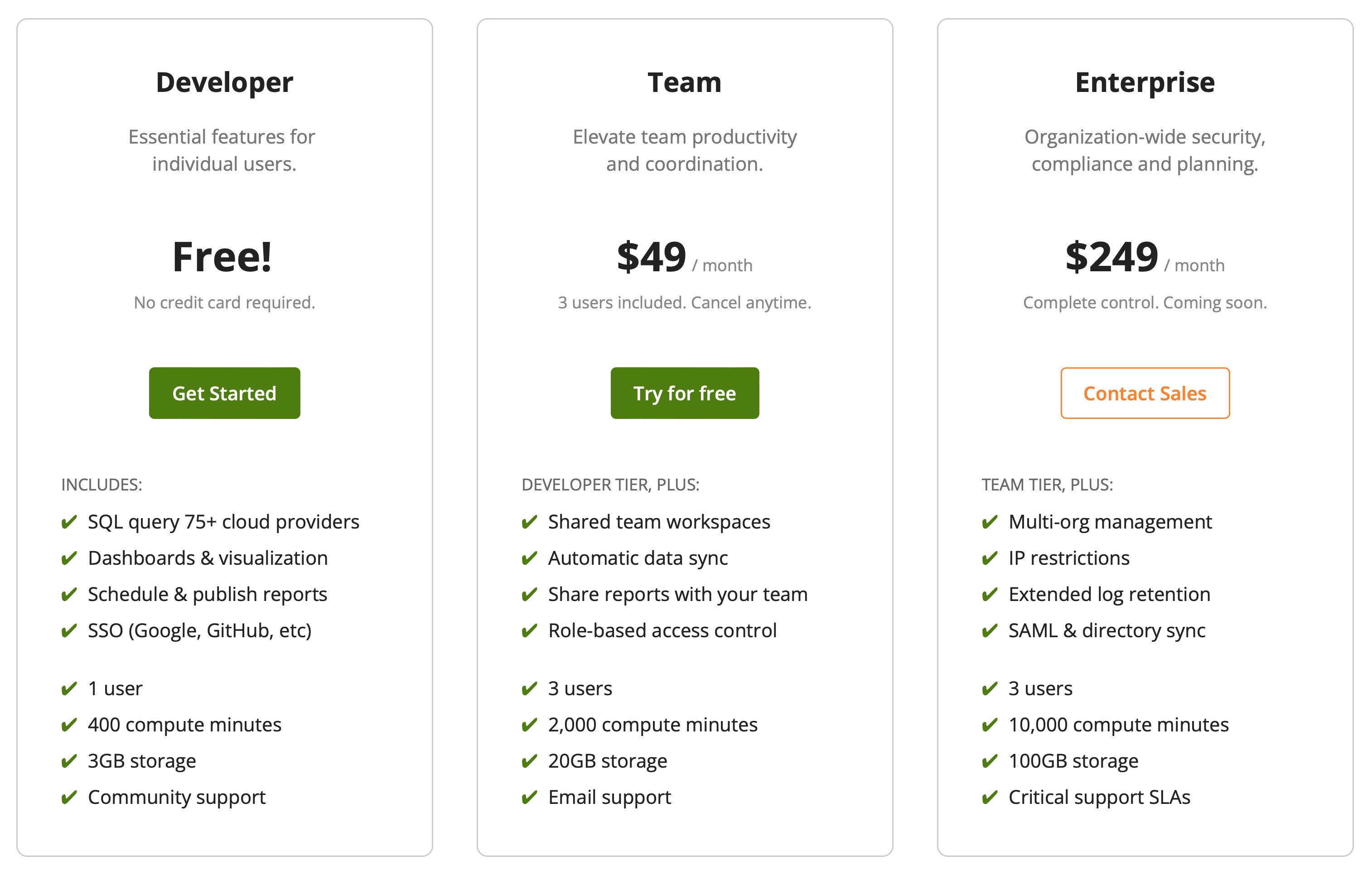 For additional information, please visit our Pricing page. Current preview users will enjoy an extended transition period with increased usage limits; more information is in the Pricing FAQ.
Easy to start, easier to love
Getting started with Turbot Pipes is simple. Sign up for the Developer free tier at pipes.turbot.com. When you're ready to explore further, upgrade to the Team tier starting with a 14-day free trial.
Join the conversation with peers in the #pipes channel of our Slack community. Share your questions, discuss use cases, and let's innovate together!