Turbot Guardrails, the leading platform for policy-driven compliance & real-time remediation for enterprise clouds, is constantly evolving based on feedback from our diverse customer base. Generating notifications from Turbot has been around for years with our Firehose feature, this works great for sending notifications programmatically from one system to another (e.g. a SEIM), but customers have also asked for a more direct way to involve individual users and teams in remediation of cloud governance issues using notifications.
Drumroll Please...
We are thrilled to unveil Guardrails Notifications. This powerful addition to the Guardrails platform ensures that you and your application teams stay informed in real-time about devops, compliance, and cloud security issues, and empowers those teams with quick-action capabilities to respond immediately. As patterns emerge from these human workflows, you can further authorize Guardrails to automatically take remediation actions on your behalf.
Gorgeous default templates
To help you get started we have hand-crafted default templates (for both single and batch notifications) across Email, Slack and Teams, but feel free to jump into the weeds and use our template settings to customize and add your own branding, links or messaging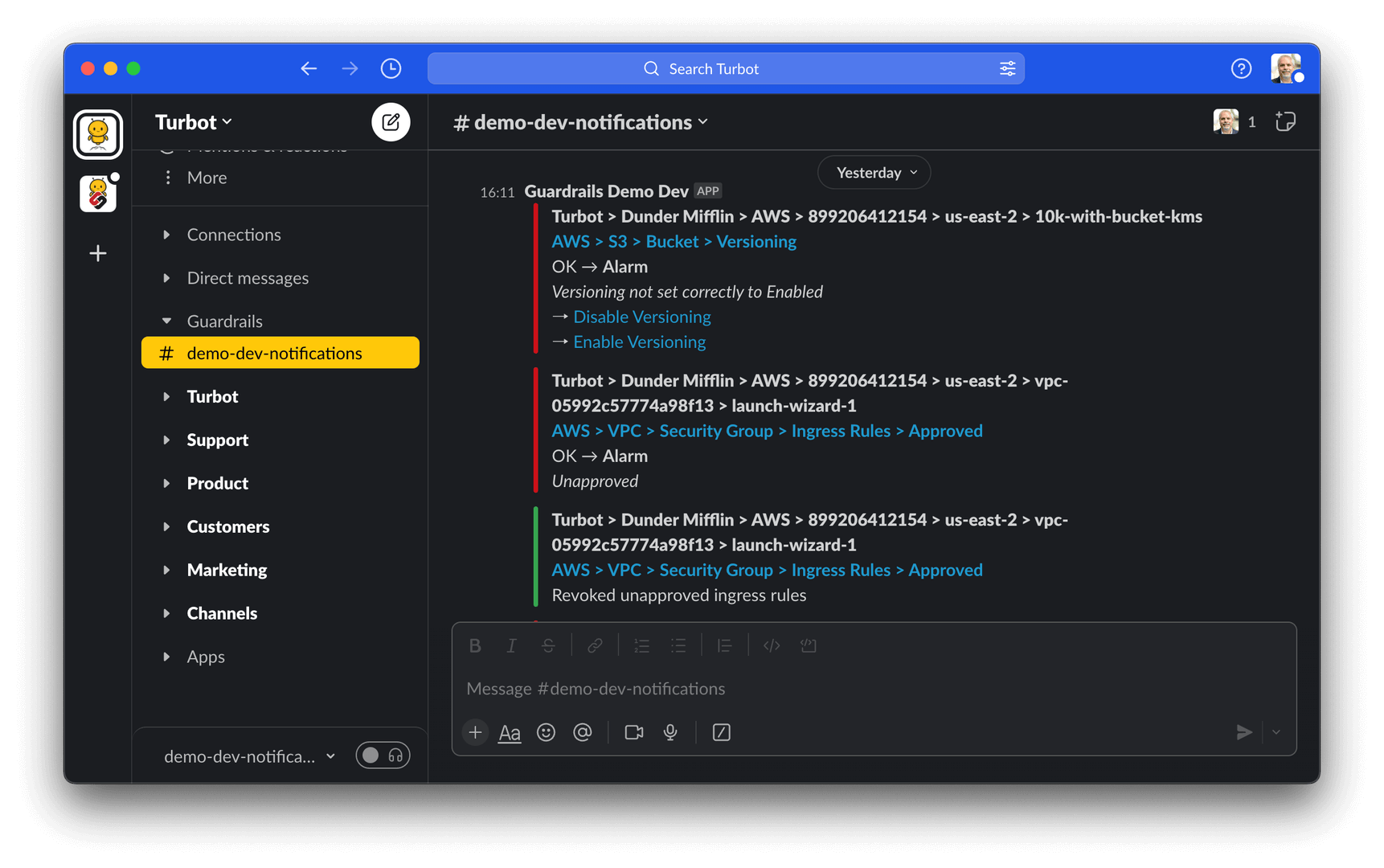 Integrated with Guardrails Quick Actions
Using Guardrails' Quick Action feature, notifications can include direct links back to the Guardrails console to fix the alert on the spot. This enables workflows where humans can confirm automated actions before application, keeping them in the loop and in control of their cloud infrastructure.

Real-time notifications
Get individual alerts in real-time, and for those situations where alerts are flooding in, Guardrails automatically sends consolidated batch notifications to avoid notification fatigue: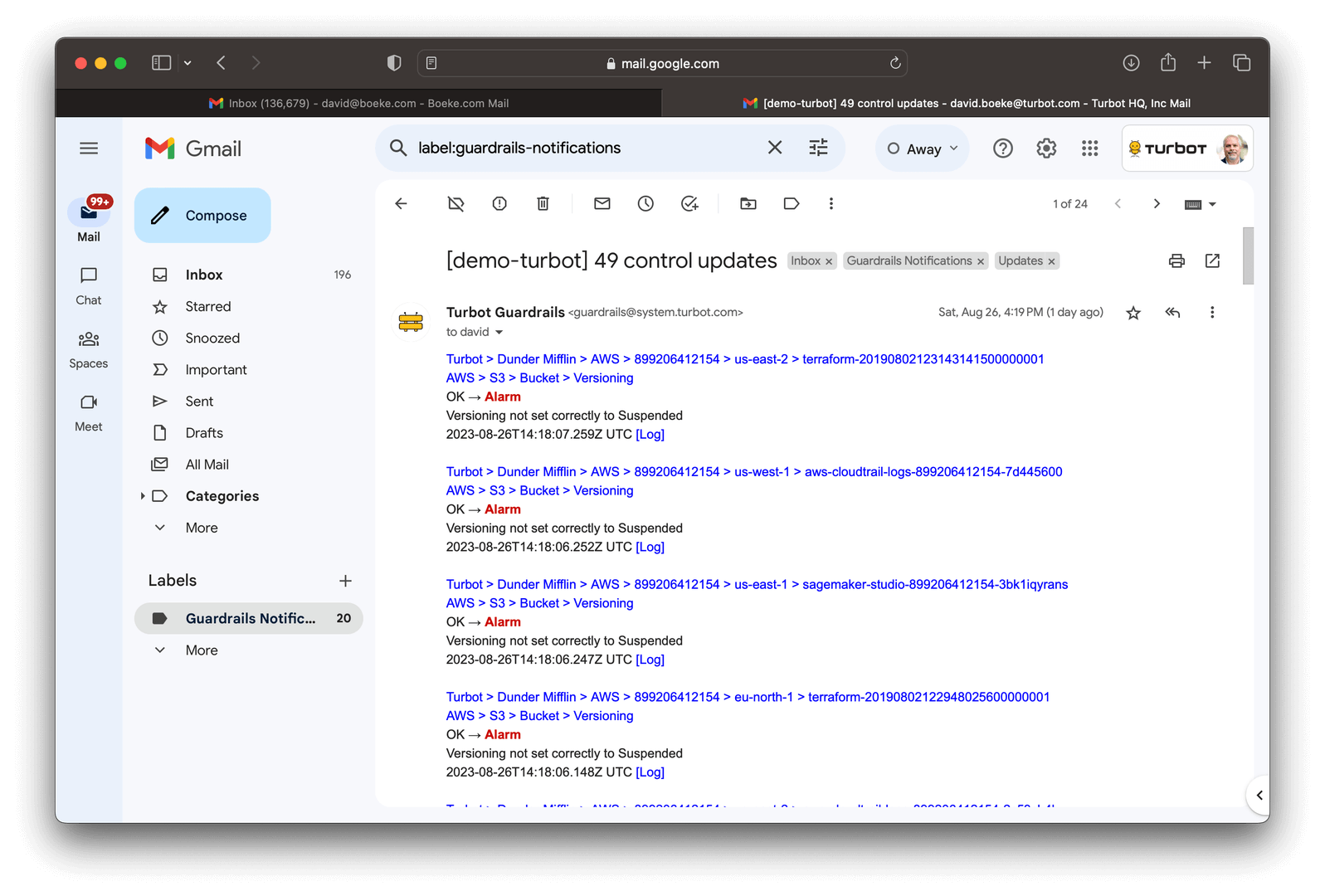 Configurable to the core
Configure your notifications effortlessly using the Turbot Guardrails UI or seamlessly integrate with our Terraform provider for those who love Infrastructure as Code.
Configurable Channels: Configure notifications for Slack, Microsoft Teams, and Email.
Configurable Triggers: Receive alerts based on specific events like Cost overruns, Compliance gaps, or Security misconfigurations.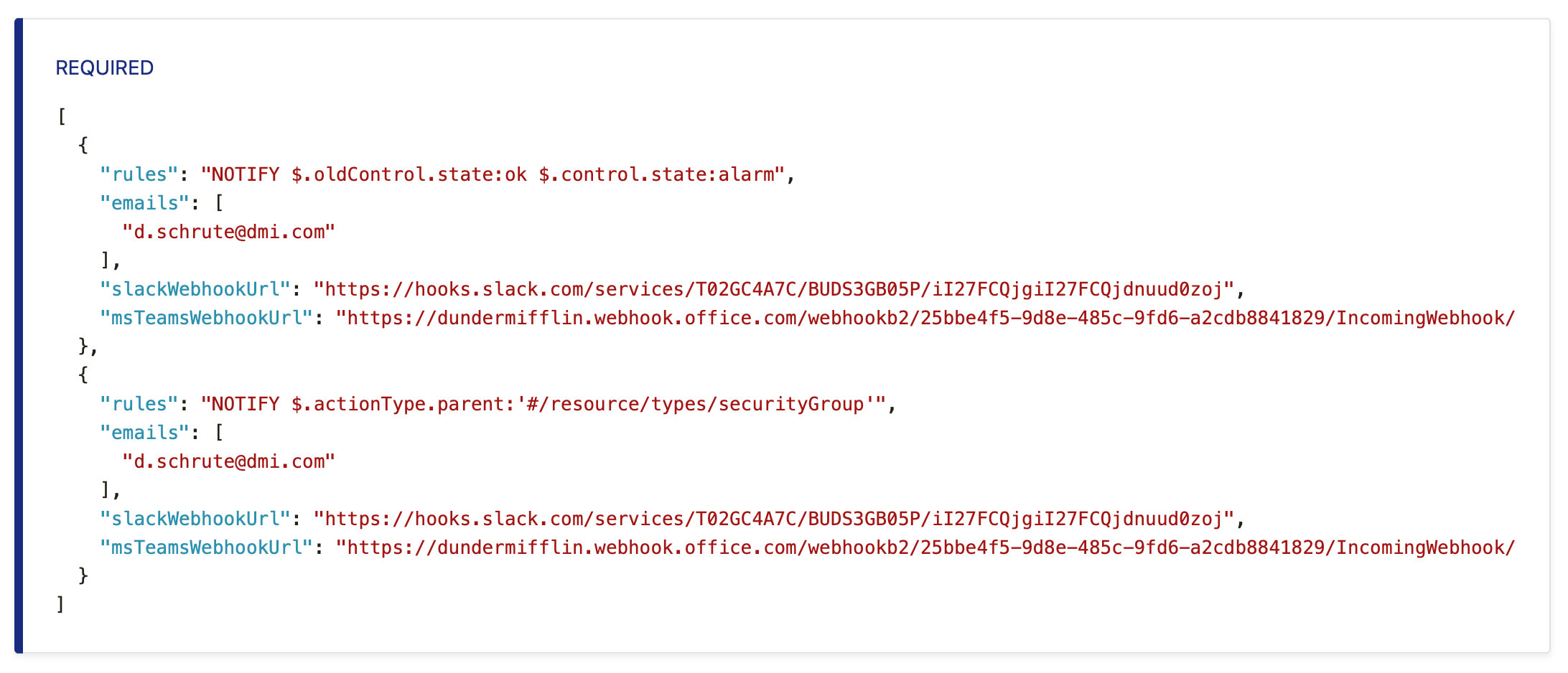 Built for Cloud Operations
With this feature, we aim to give you even more visibility and control over your multi-cloud ecosystem along with the ability to loop-in teams that don't have access to the Guardrails console. Watch this quick demo to quickly get a feel for how you can use Notifications in your cloud governance workflows.
See it in action
Questions about the new Notifications feature? Join our discussions in the #guardrails channel of our Slack community. We always value your feedback and look forward to hearing how your team leverages notifications!