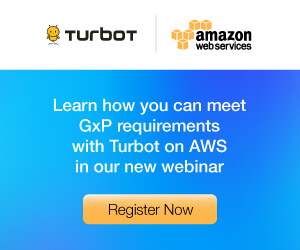 AWS and AWS Partner Network (APN) Partner Turbot will present a new webinar in October 2017 focused on compliance requirements for Life Sciences organizations using workloads on AWS.
In this webinar, you'll learn how AWS and APN Partners can help you build secure workloads to meet regulatory requirements, including GxP. AWS Life Sciences Compliance experts will be joined in this webinar by APN Partner Turbot, who will present their solution for managing access to cloud workloads through customized, automated guardrails with full auditing capabilities.
AWS and Turbot Guardrails Help You:
Take advantage of the positive cloud economics for regulated workloads
Achieve compliance requirements including GxP on AWS
Focus on what your organization does best—developing trusted Life Sciences products and solutions—and not on underlying infrastructure needs
Check the Compliance for Life Sciences Workloads Solution Brief
Make sure to register for the webinar. If you are not able to attend the Summit, we are always happy to connect for a demo.