As Turbot's product suite expands with offerings such as Steampipe, Turbot Guardrails, and Turbot Pipes, maintaining clear and direct communication becomes essential. We're thrilled to introduce the Turbot Changelog, a one-stop, easily digestible resource for all updates and enhancements across our products.
The Turbot Changelog is your definitive source for updates across all Turbot products. In the past, tracking updates required navigating multiple pages or platforms. Now, with the centralized Changelog, all necessary information is consolidated and made accessible through various channels. You can filter updates by product, subscribe to RSS feeds for specific products, view recent updates within the Pipes and Guardrails interfaces, and receive Slack notifications in our community's #changelog channel. The Changelog and associated RSS feeds are updated with each product release and enhancement, keeping you informed at all times.
Unified Turbot Changelog
Our Turbot Changelog brings together updates for all Turbot products: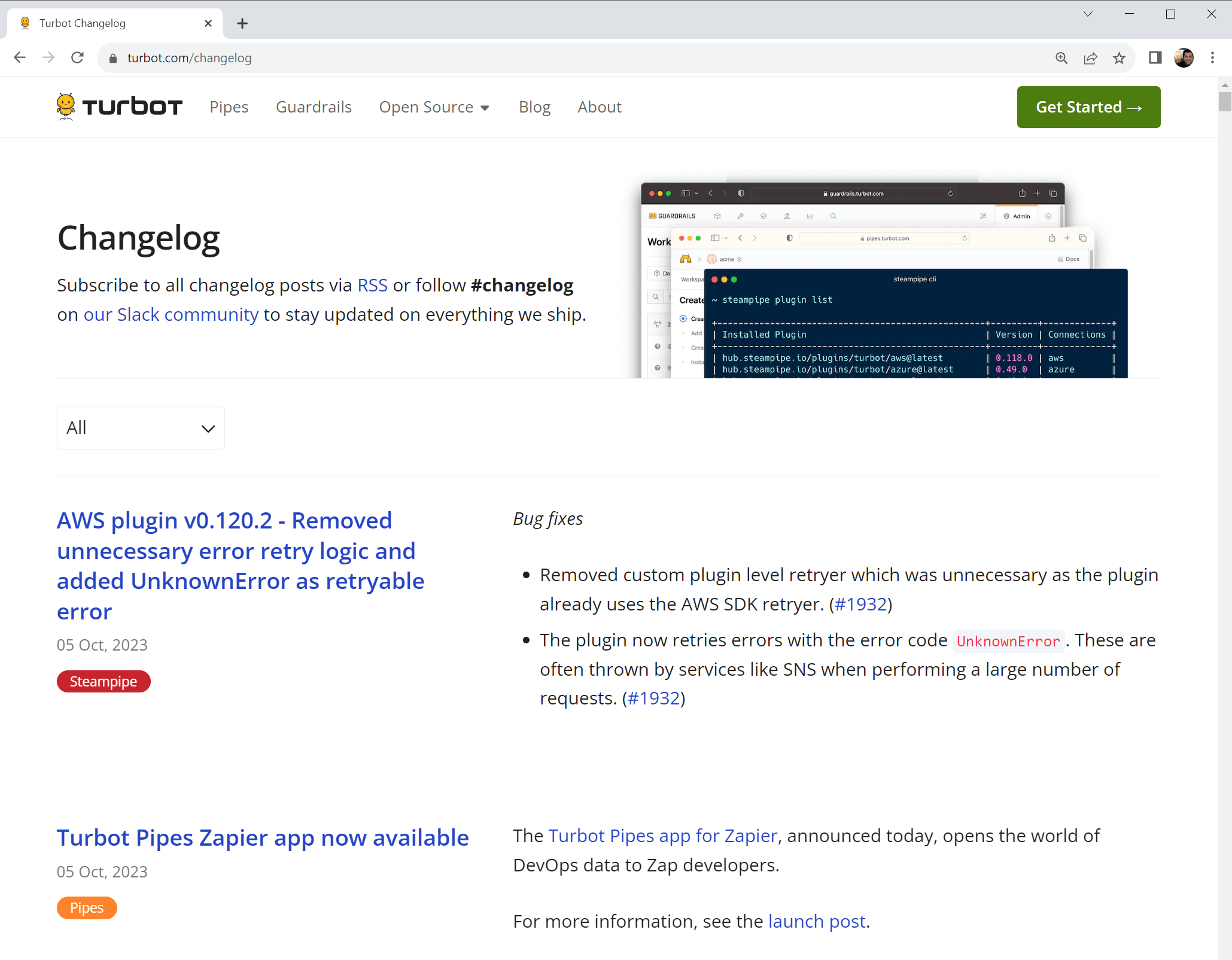 Product level changelogs & RSS feeds
Plus, each product has its own unique URL and RSS subscription link:
Turbot Community changelog notifications
Stay connected, supported, and informed by joining our Slack community and following the #changelog channel. This channel, subscribed to all product RSS feeds, provides real-time updates and a space for Q&A in threads: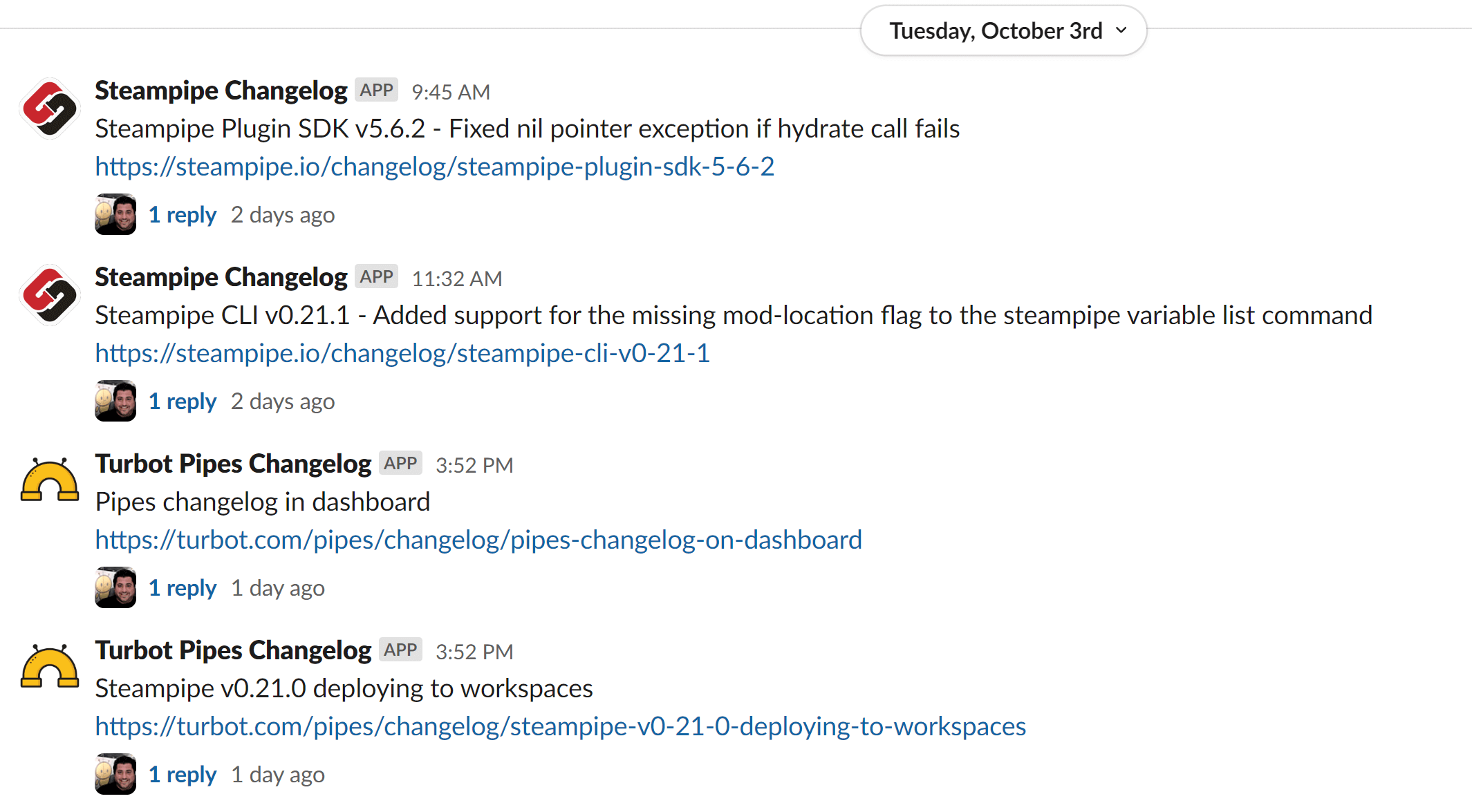 Recent updates directly in-product
Instantly see the latest changes from the product; for example, Turbot Pipes' homepage has the most recent Pipes & Steampipe Changelog items: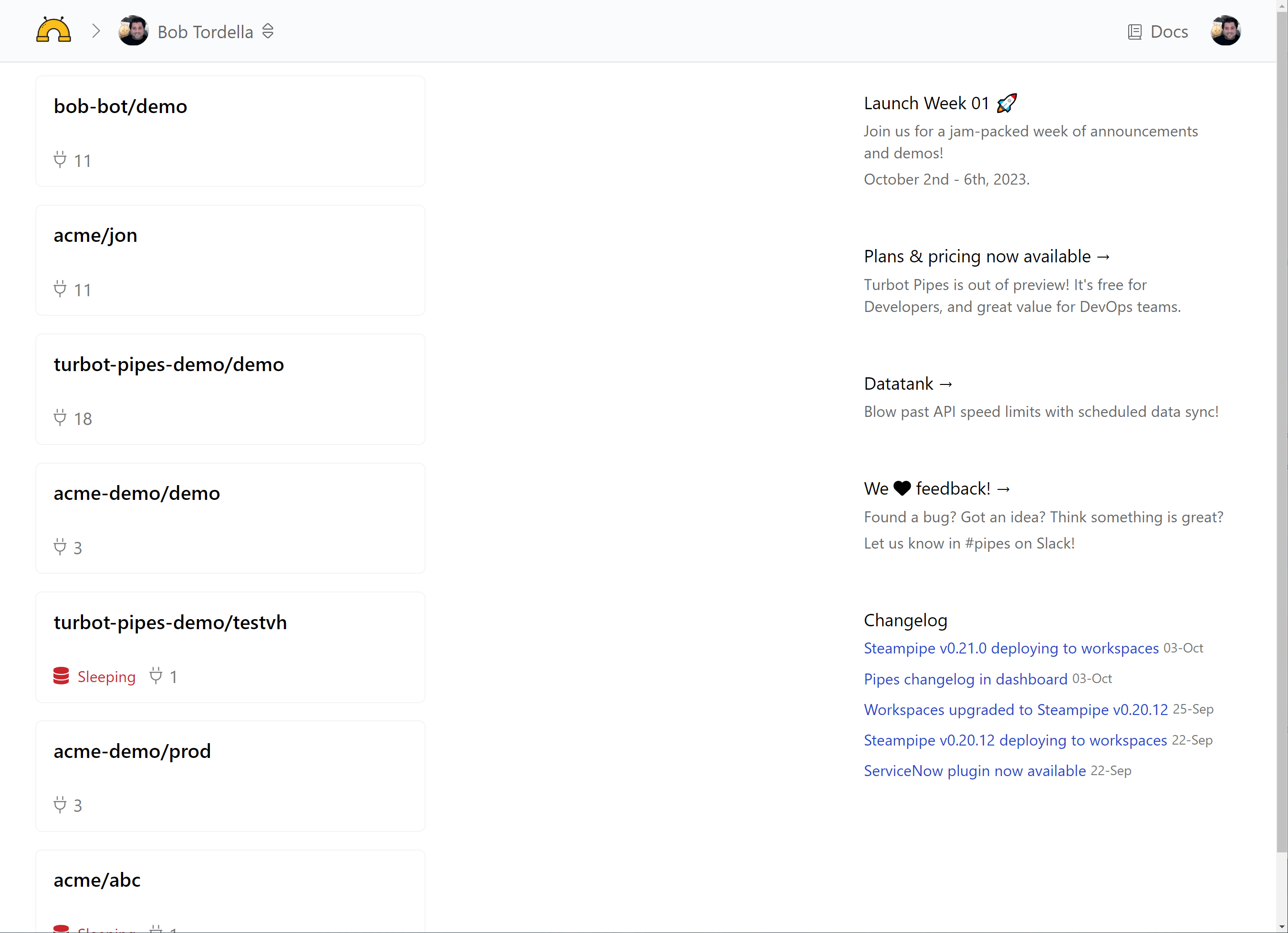 How to leverage the Turbot Changelog
Universal Accessibility: The Turbot Changelog is accessible to everyone. It's a transparent showcase of our commitment to continuous improvement. Anyone, from prospects to partners, can stay updated.

Share with your Team: Share a feature, update, or enhancement with just a link. Keeping your team or network informed as there are announcements they are interested in.

Stay Updated in Real-time: Subscribe to our RSS subscriptions to never miss an update. Be the first to know, whether it's a product-specific update or a general enhancement.

Join the Conversation: More than a static list, our changelog is a community hub. Each update is automatically shared in our Slack community's #changelog channel, inviting collaborative discussions on the latest changes.